About the Eric Sahlström Institute
The Eric Sahlström Institute is a Swedish national center for traditional music and dance, with  the instrument nyckelharpa as our special endeavor. Through education, long-term projects and performances, we promote and develop the genre across the country and abroad.
Education
The Eric Sahlström Institute's educational programs in traditional Swedish music and dance offer the finest musicians and dance leaders in Sweden.
We provide year-long courses in:
These courses offer the opportunity to learn the fundamentals of our compelling and rich tradition, to broaden repertoire and deepen technical skills. At ESI we teach our students to express themselves in the language of traditional Swedish music and dance. We regularly welcome students from all over the world. For more information and application, see the attached file down under.
PDF – folk music course
PDF – folk dance course
The ESI also offers week-end, distance and summer courses.
Projects
In addition to our practical courses, the Eric Sahlström Institute hosts and collaborates with projects that develop, strengthen and promote the genre. Some examples follows: ESI was part of producing an action plan for traditional music and dance for the cultural minister of Sweden. The Institute are hosting a network for Nyckelharpa teachers as well as vocal tradition bearers and builders of traditional instruments.
Uplands Låtverkstad (ULV) gathers young musicians from theregion to play together and immerse themselves in traditional music. The work of our future tradition bearers culminates inconcerts with famous bands. ULV released their first CD in 2011.
Nyckelharpas for children – For children to be able to learn nyckelharpa, instruments suitable for smaller fingers are needed.
Performance venue – ESI's 19th century mansion hall serves as a concert venue for Akustiskt i Tobo, an exclusive international music festival featuring world-known artists in an intimate acoustic setting. Tobotorsdag are popular evenings that feature local tradit tional music and dance groups. Concerts and dances pepper the ESI calendar throughout the year.
Location
The Eric Sahlström Institute is located in a beautiful 19th century mansion in the village of Tobo, former home to one of many iron foundries in the region. The surrounding neighborhood provides beautiful nature walks, old ironworks villages, running trails, and the legendary castle where 16th century Swedish King Eric XIV was poisoned.
The institute, founded in 1998, is an important gathering place for musicians and dancers and is used throughout the year for courses, meetings and rehearsal space. Accommodation and cooking facilities are available in the annex building next door, and meals can be provided by our own cook in the manor house itself. Our specialized reference library invites you to plunge into material about the genre.
Just north of Stockholm, ESI is less than one hour by train from Arlanda airport. Between lies Uppsala, home to Sweden's oldest university (founded in 1477) plus a rich variety of entertainment, dining and culture. Stockholm has much to offer including the national venue for traditional music and dance Stallet; the Royal Academy of Music; DOCH – School of Dance and circus; Visarkivet (folk music archive); as well as fine art, folk art and culture museums.
Eric Sahlström
Eric Sahlström (1912-1986), was an innovative master nyckelharpa builder, composer and musician whose work has played a crucial role for the survival of the nyckelharpa all over the world. For more information, visit the website of Eric Sahlström Memorial Foundation: www.ericsahlstrom.se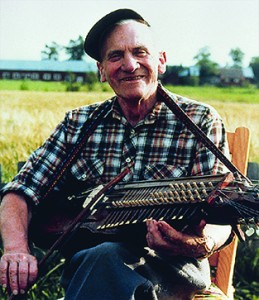 Contact
E-mail: info@esitobo.org
Telephone: +46 295 342 90 (or +46 295 342 93)
Adress:
Eric Sahlström Institutet
Bruksgatan 3
748 50 Tobo
SWEDEN
You are welcome to visit the institute daytime, but please let us know in advance.
Getting here
Tobo is about fifthy kilometers north of Uppsala. Thanks to a well-developed public transport, it is easy to get to and from the Institute. The regional train from Uppsala – "Upptåget"  – takes about 30 minutes.
Time tables
"Mälartåget": Upptåget is a regional train. It goes between Uppsala and Gävle, via Tobo.
SJ: The SJ trains go to Uppsala or Gävle. From there you'll have to change to the regional train "Upptåget". But you don't need two different tickets, you can buy your ticket all the way to Tobo.